You're purchasing a used but in a excellent working order Stratus ADS-B Receiver. It has a built in 8 hours battery time with WAAS GPS. They are absolutely no issue with the device and everything works great. Battery still runs very good with no issue. It comes with USB charger and cable. Feel Free to contact me if you have any questions. Thanks
Made for ForeFlight
Stratus™ is the simple-to-use, pocket-sized, wireless receiver that transforms your iPad into the ultimate flight tool. Get subscription-free weather, GPS information and ADS-B traffic – all integrated with ForeFlight Mobile. The Stratus 1S is an incredible value, but features the same pilot-friendly design that has made Stratus the best-selling ADS-B receiver in aviation.
SUBSCRIPTION-FREE IN-FLIGHT WEATHER
You can view in-flight weather on your iPad, including NEXRAD radar, METARs, TAFs, TFRs, AIRMETs, SIGMETs, NOTAMs and more. It's updated every 5-10 minutes and there are no subscription fees – ever. Plus, Stratus Replay allows you to turn off the iPad screen in flight and save battery; when you turn the screen on again, Stratus will automatically send all the weather information you missed. This can double your iPad's battery life.
SINGLE BAND ADS-B TRAFFIC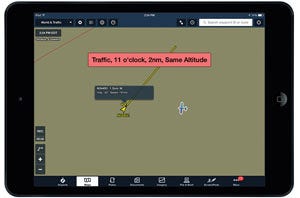 Stratus 1S includes a single band (978 MHz) ADS-B receiver so it can display traffic information right on the ForeFlight Maps page. See relative altitude, climb/descent rate and projected track. Picks up aircraft equipped with 978 MHz ADS-B Out as well as all aircraft equipped with Mode C transponders via ADS-B rebroadcast (if your airplane is equipped with ADS-B Out). Note: ADS-B traffic is limited unless your aircraft has ADS-B Out installed in the panel.
WAAS GPS UNLOCKS TRACK UP AND TERRAIN
With the built-in WAAS GPS receiver, Stratus allows you to view moving maps, track up displays and high resolution terrain maps in ForeFlight. The smart GPS locks on fast and typically provides 1 meter accuracy. Replaces the need for a separate GPS receiver--Stratus has it all!