View Pictures

Bid or Purchase
Current Price: 70.20 USD Ends in: ended
25 pieces, Bendix/King connector contacts. These fit the edge connectors for many popular Bendix/King radios and audio panels. They are also used on PS engineering PSA8000 series audio panels, and they also fit some Narco radio connectors as well. Although not purchased from Honeywell, these contacts are the exact same as-
These are the original gold-flashed versions used by Bendix-King and PS Engineering. They are not the cheaper tin-lead plated contacts (sometimes identified as "silver") offered by some others sources.
KING PART NUMBER 030-01107-xxxx
(xxxx varies, it is number of contacts included, would be -0025 in this case)
NARCO PART NUMBER 41407-0001
These are for use in the black double row connectors used on the King KX155, KX165, KN53, KX155A, KT76A, KY196, KY197, KY196A, KY197A, KLN35, KMA24, KMA134, KR87, KN75, KNS80, KNS81; and many others too numerous to mention... They also fit some Narco radios, such as the Mark 12D and DME890 (and others). Also used by ICOM for their panel mount equipment.
INTERNATIONAL BUYERS- PLEASE PROVIDE TELEPHONE NUMBER FOR CUSTOMS FORM.
These contacts are no longer available from the original manufacturer. Once these are sold out of my inventory, they will be very difficult to find. I believe the are available from bendix/king for around $6.00 per contact.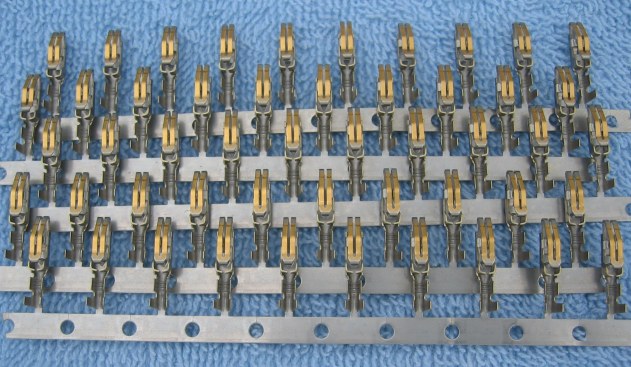 Powered by
Bid on or purchase this item.